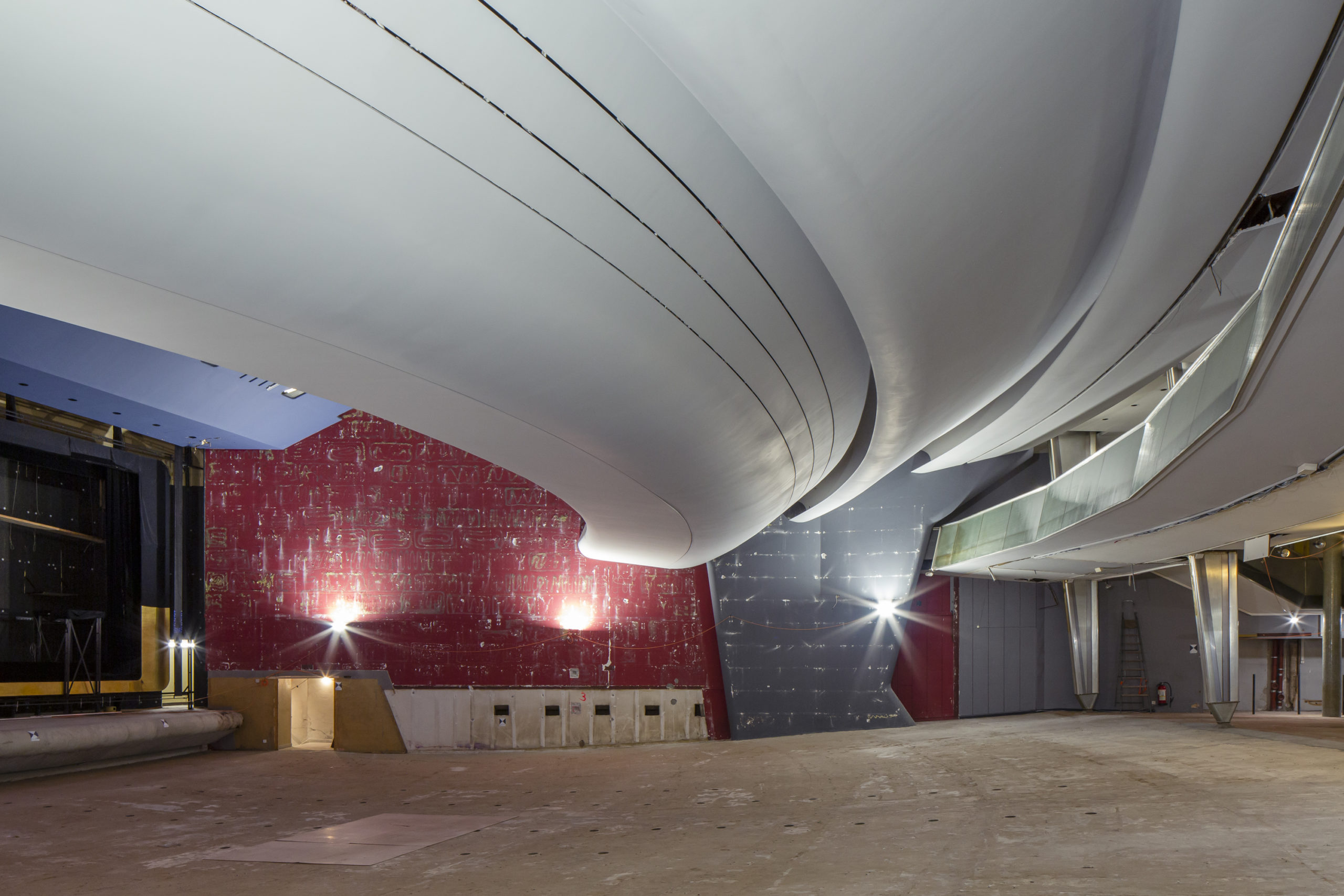 An icon of post-war modern architecture in Geneva
Built by the architect Marc J. Saugey between 1951 and 1953, the Mont-Blanc Centre complex and the Plaza cinema represent a unique urban project.
Thanks to the support of a group of lovers of the Plaza cinema and relentless struggles, the Plaza escaped demolition. Today, after its purchase by the Wilsdorf Foundation, it is a listed building, recognized as an exceptional piece of Geneva's built heritage, one of the few dating from the 20th century to benefit from the highest protection measures in Geneva.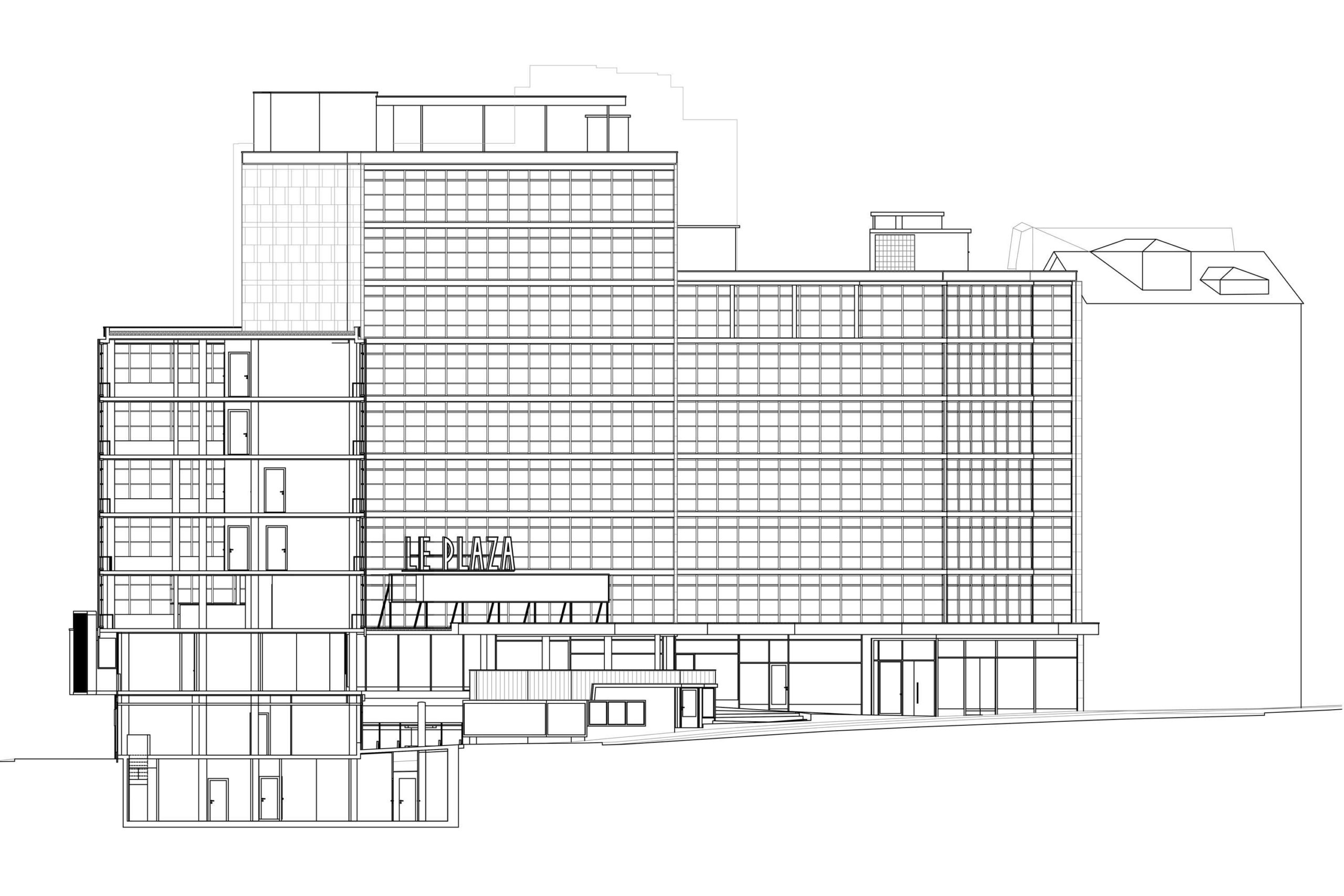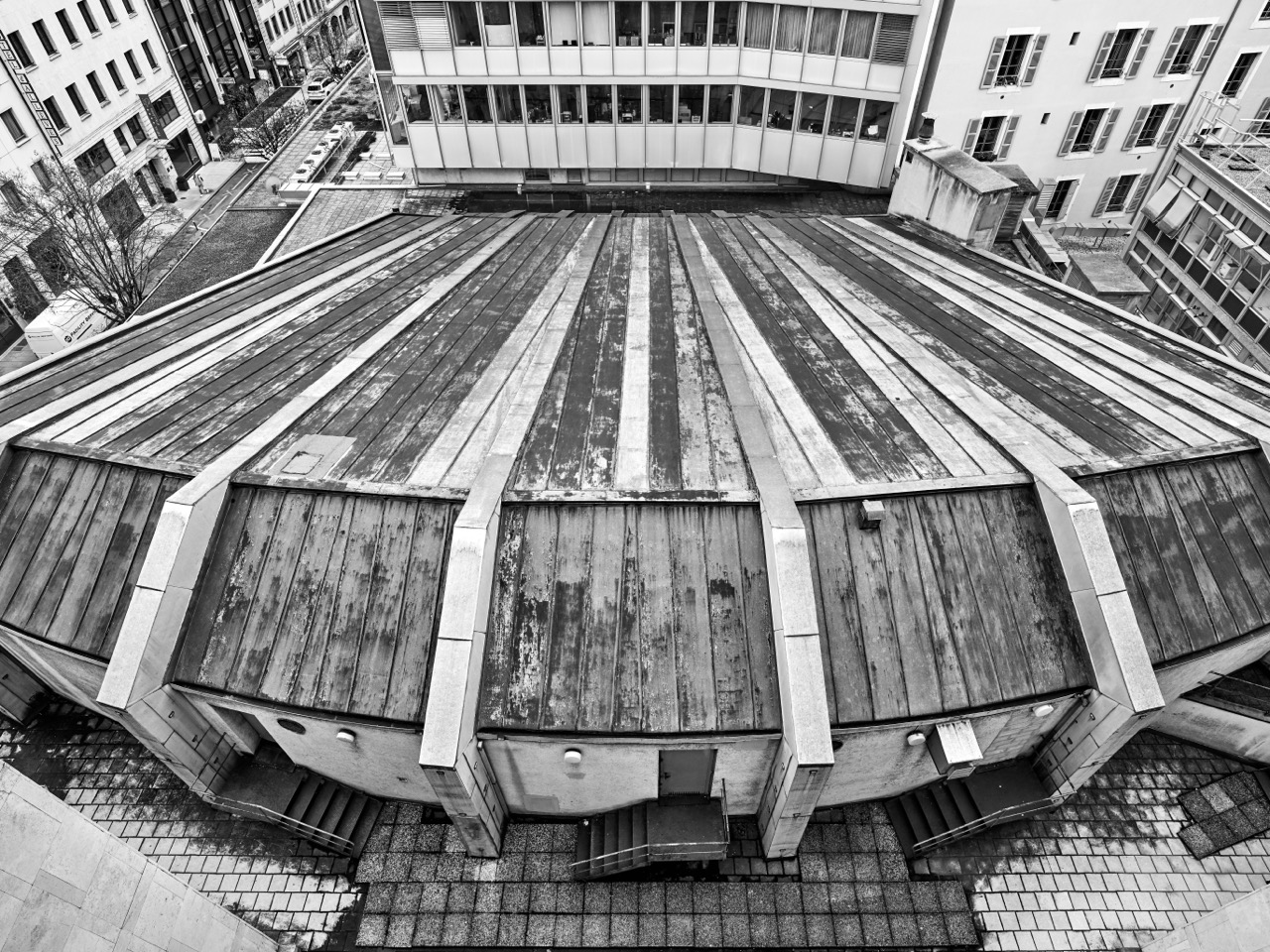 One of the distinctive features of the Plaza, both technically and aesthetically, is the structure of the movie theater.
The room is in fact crowned by six large aluminum structures, each ten meters high and twenty-five meters long, which form the visible frame of the cinema.
These load-bearing structures, which are deliberately left visible, form a strong aesthetic element, emphasized by neon lighting, which highlights a technical feat that was pioneering in Switzerland and even in Europe.
The movie theatre has an imposing balcony and a gallery-foyer, called the Promenoir, at mid-height at the back. This gallery also reveals a technical achievement achieved with the complicity of the engineer Pierre Froidevaux offering a span of thirty meters. The gallery is supported only by two lateral concrete supports on each side of the room. The result is a large volume without any visual obstruction.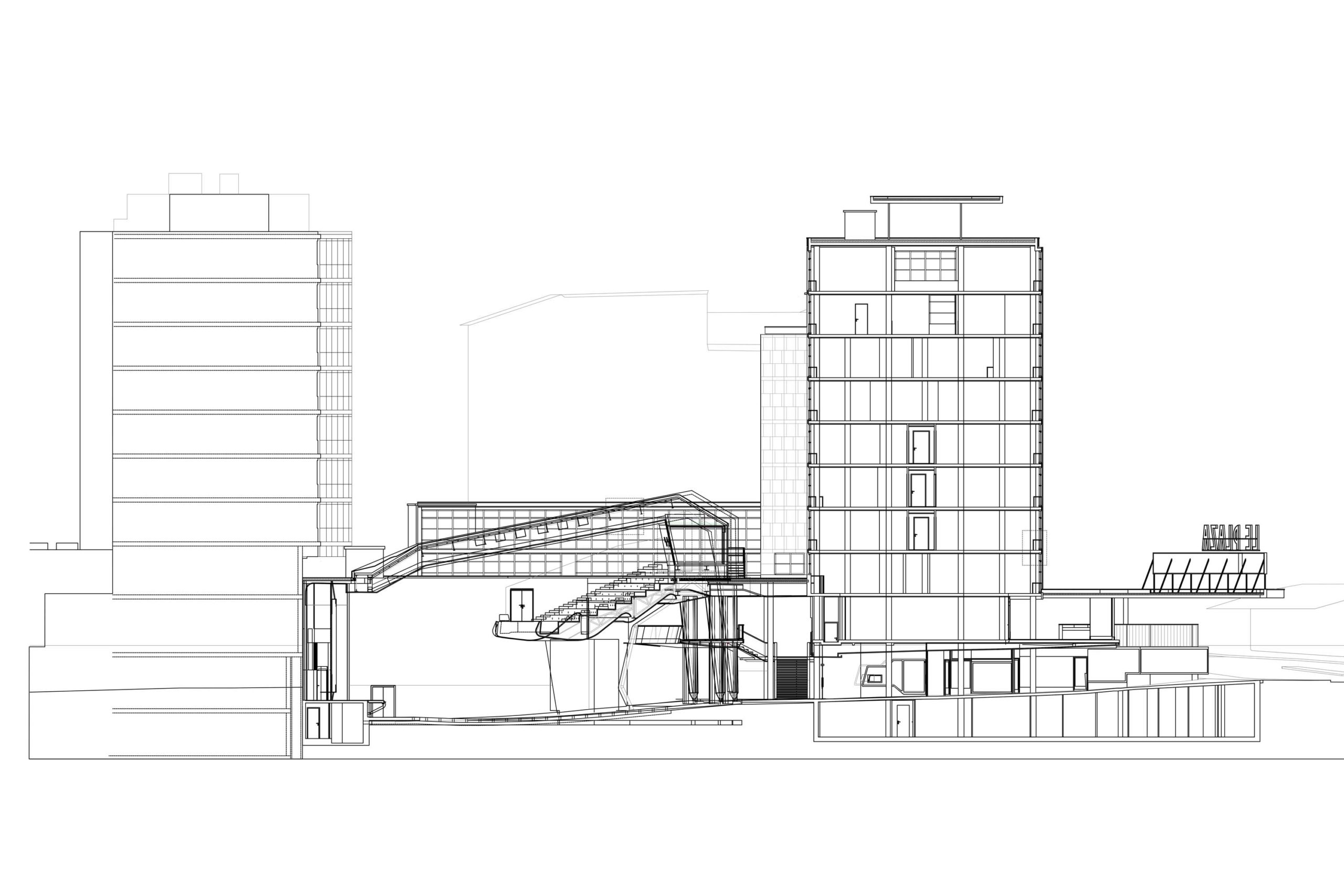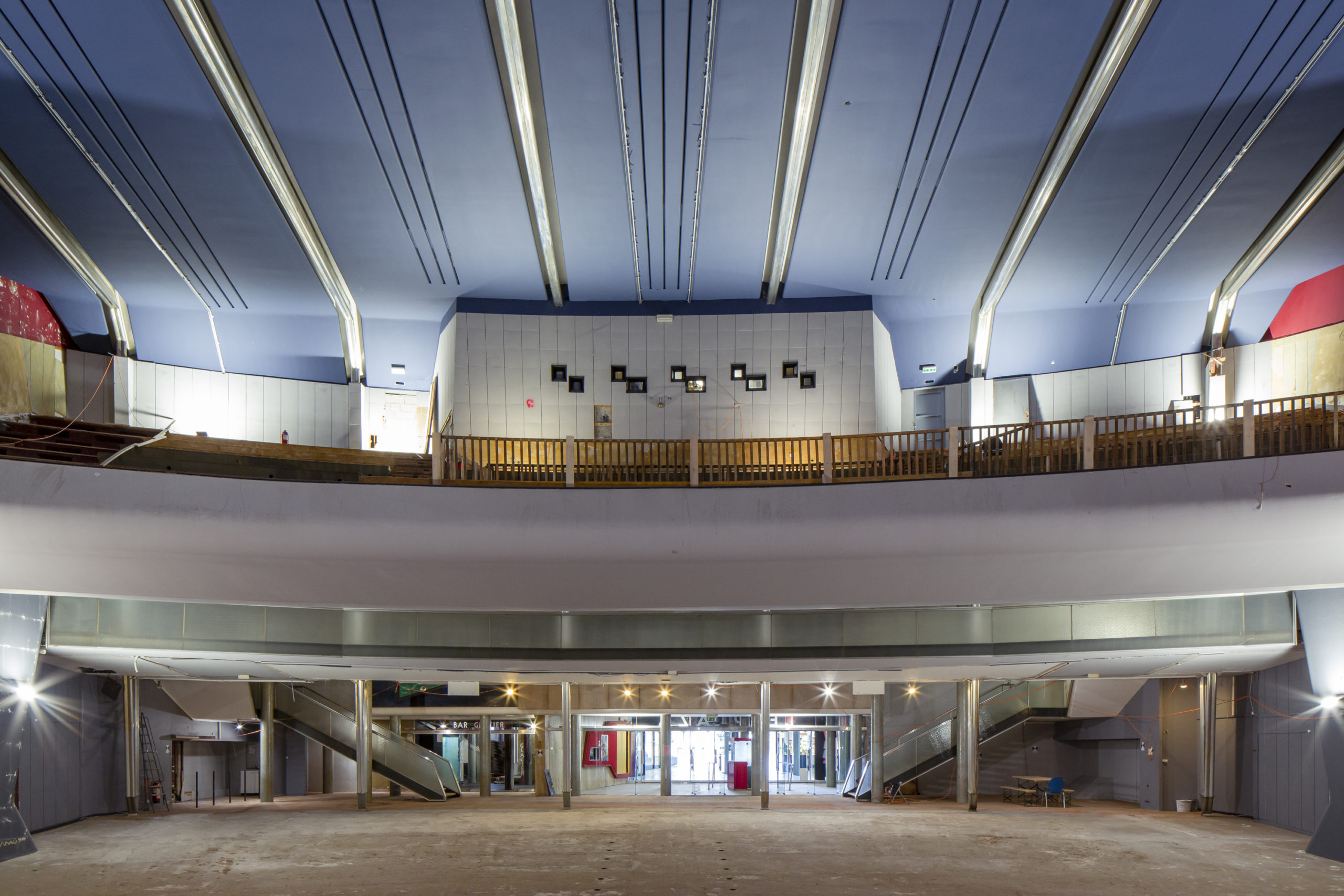 "The whole composition offers a great spatial fluidity: one circulates in the building without crossing a threshold. The sequence that leads the spectators from the sidewalk of the rue du Cendrier to the interior passage, then to the open "lobby" of the cinema with the bar, the cash desks, the foyer, then to the movie theatre and all the way to the base of the screen – all on the same level and with only a double row of glass doors and a red velvet curtain as a limit – is remarkable.
The Plaza's lobby is a true urban crossroads in miniature, hemmed in between the store windows, and playing on functional synergies. The various architectural devices lead to the obliteration of the boundary between private (commercial) and public (collective)." explains Catherine Dumont d'Ayot in her 2014 thesis on Saugey's work.